Facebook announced today what has been circulating the rumor mill in recent days: that Instagram is adding a video feature to its popular Instagram photo-sharing social network.
In keeping with the Instagram brand of making photos simple and beautiful, Instagram Video seeks to make video capturing and sharing just as easy. It will have several new features you're sure to love:
15-second video clips (in contrast to Twitter's Vine 6-second limit) Why 15 seconds? "Not too long to upload on mobile, but not too short to get the story you want."

The ability to edit out or replace bad shots from of the clip

13 creative filters for video (much like the filters for Instagram photos)

Post the clips directly to your feed and they show up just like the photos do

Available for iPhone and Android – sorry Windows phone users, not for you yet

"It plays once. It doesn't loop. It doesn't get in the way" (another contrast to Vine)

And here's the kicker: "Cinema" – the feature lets you clean up shaky videos
The announcement was made by Kevin Systrom, Instagram's co-founder, at Facebook headquarters.
Have you tried it yet? Will you use it? Will it kill Twitter's Vine video app? Tell us what you think by leaving a comment…

I'm always looking for facts and stats and anecdotes to fill my head or a  presentation with something other that hype.  I like to figure out not just what's happening or what's trending but why or how is it occurring. Only then can I truly capitalize on early opportunities and perhaps get out ahead of the curve and lead the way.  As 2012 closes we're inundated with 2012 recaps and 2013 previews. Most of them aren't worth the time it takes to toss them in the trash. However, there are some reports that matter and for convenience I'll be posting a short description with a  link to the few I think are worthy. I hope you find them valuable as well. Keep checking back because I'll continue posting them over the next several weeks.   Or you can subscribe to the feed (note that the feed address will be something like http://www.newmediamigration.com/feed -this is correct – its a long story and I'm short on time) Please also do me a favor and leave the URL and description of any good, relevant, and valuable prediction posts or reports for business, marketing or social media  in 2013.
My first entry is well worth the time to read it. In fact I'm going to buy the full copy ($2.99) as a reference throughout the year
_____________
15 MARKETING & BUSINESS TRENDS IN 2013 THAT WILL CHANGE YOUR BUSINESS
Every year Rohit Bhargava, marketing expert and Amazon best selling author of Likeonomics,  publishes a trend report with the 15 biggest trends that will affect marketing and business for the coming year. He uses a good process to come up with them and I think they are important insights.
You can purchase the book here. ($2.99) Note: It is an affiliate link. I set it up expressly to test the process. So if someone does buy the book using the link, I stand to gain about 12 cents.
____________
8 INSIGHTFUL MARKETING PREDICTIONS FOR 2013 AND BEYOND
HubSpot has compiled some of their "most insightful predictions — backed by several industry experts and thought leaders — into our new guide, 20 Marketing Trends and Predictions for 2013 & Beyond. "  But before you can download the 20 Trends, they want you to read the teaser blog post with 8 of them. Maybe they ran out of large marketing funnels and they can only fit 8 in the small one? Regardless, with thought leaders like David Meerman Scott weighing in, this is some serious and solid content – or it wouldn't be listed here, right? Right.
Across he events landscape "platforms such as Facebook, Twitter and YouTube have changed everything. Social ads allow event planners to effortlessly target a niche audience, and response websites, social backchannels and on-demand, online web conferencing (and social monitoring) have completely transformed the modern business conference, both pre- and post-event.
This infographic takes a closer look at how technology is changing events.

See on www.mediabistro.com
The State of Social Media 2012: Nielsen Report
This report reveals insights such as:
What's driving the continued growth of social media?
How is consumer usage of social media evolving?
How is social media impacting marketing?
Who is using Pinterest?
Most of the social media hype you see proclaims that every business, except for yours, is using social media for marketing and business development. This infographic paints a somewhat different picture.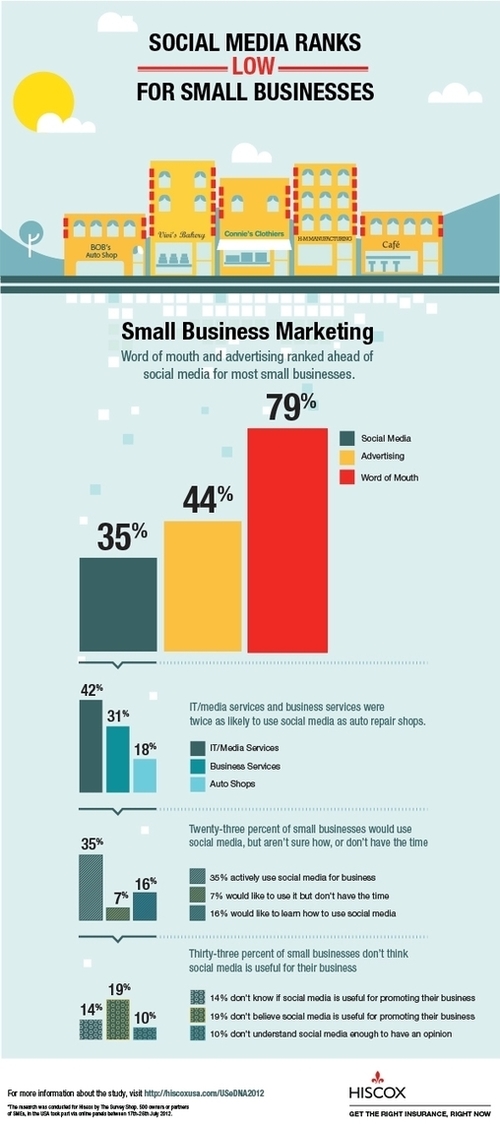 See on www.scoop.it